One of the best Fisheries in Essex
When you visit Oak Lakes Fisheries you'll have the opportunity to hook some amazing fish. We have some of the best and most lively fishing lakes in Essex, where you can fish for varieties of Carp, Tench, Roach, Rudd, Perch, Bream, Gudgeon, Catfish and Pike.
The Oak Lake and Pipe Lake are ideal for carp fishing where you can catch carp weighing over 30lbs. If you are looking to catch Catfish or Pike we also have the Predator Lake which is home to several species of predatory fish.
If you are looking for day tickets to do some regular carp fishing, or even just to join a syndicate as a member, there really is something for every angler here at the most popular fishery in Essex. With a day ticket you can fish for the whole day from first light until dusk, or purchase a 24 hour ticket and bring your bivvy, as night-fishing is available on all fishing lakes.
The Predator Lake includes very large Catfish, some over 140lbs and also large Pike weighing up to 30lbs. If you are looking to angle for a certain fish in particular we can definitely provide you with information on that. For example if you are searching for Catfish or Bream then the summer time is normally the peak time, however if you are fishing for Pike then the winter time is the best chance of catching them. Fishing for carp is the most popular here for our members as you tend to have the chance of catching them all year round in many of our lakes. Here at Oak Lake Fisheries one of the proudest memories we have is actually holding the record for the biggest Catfish ever caught in the country.
Well away from busy roads, Oak Lakes Fisheries provides peaceful fishing spots and carp fishing lakes with secure parking, unisex toilet and shower facilities, well-maintained swims and disabled access swims available. The site offers 40 acres of tree-lined lakes with Monkjack deer, rabbits, hares, woodpeckers and kingfishers among the natural wildlife – so there's plenty to look at whilst waiting for that tug on your line!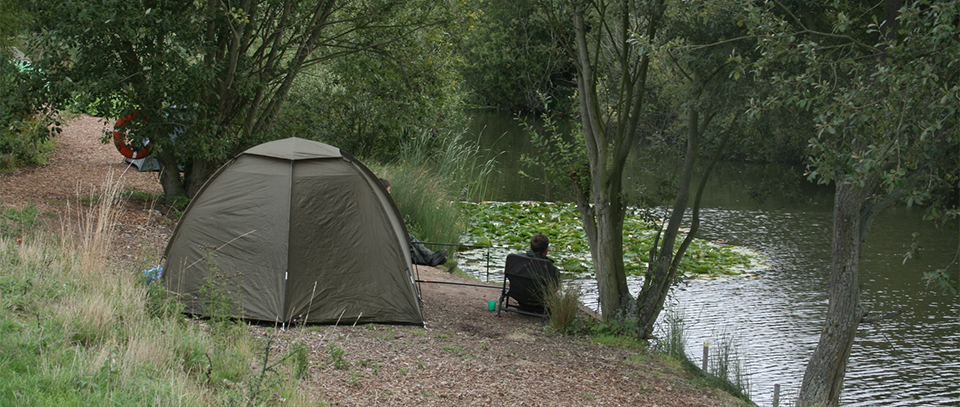 Comfortable fishing with great catches
There are four lakes – all are well stocked with healthy, well developed fish. Pipe Lake is a member's only lake and Oak Lake, the Predator Lake and the Match Lake are all available for day and night fishing.
You'll be on a secure site, with bailiffs monitoring all the lakes. The swims are mulched with bark to ensure they stay well-drained and comfortable so you're not slipping and sliding in mud on wet days.
There are unisex toilet and shower facilities handy and secure parking near to most swims. In fact, you can simply settle in and enjoy the day with the minimum of fuss and bother! Local takeaways and a local pub will deliver food and drink to the car park.
Day ticket lake with carp over 30lbs day ticket £10 or 24 hours ticket £20. Heavily stocked Match lake day tickets from £5, lake bookings taken. Predator lake with catfish to 150lbs and pike to 30lbs, winter and summer prices. Syndicate lake for members only £250 per year. Cafe, tackle and bait shop and food deliveries available.