The Local Ad produces a Local Advertising Magazine in Essex, Covering Tiptree, Witham. Maldon, Chelmsford, Burnham and surrounding villages. Our magazine has been delivered through doors into people's homes since 1998.  It is a monthly magazine with thousands of issues being delivered across Essex.
In 2010, the British Marketing Survey found that leaflets through the door received the highest response of all advertising channels, including newspapers, television and email.
We publish five magazines every month.
Where our Advertising Magazine in Essex goes:
Not only do we deliver books through doors but we can also deliver leaflets. Please call us on 01621 841744 for quote.
Our team of delivery staff are monitored by means of back checking service, door knocking and phone calls to businesses in the delivery areas.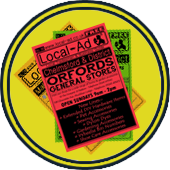 To earn a discount you must book three or more adverts.  These adverts can then be used in any  of our five monthly magazines in any combination you require.

STANDARD ADVERT SIZE

1 ADVERT

(Any magazine)

3 ADVERTS

(Any magazine)

6 ADVERTS

(Any magazine)

12 ADVERTS

(Any magazine)

Full Page

£115

£110 (£330)

£100 (£600)

£95 (£1140)

Half Page

£85

£80 (£240)

£75 (£450)

£70 (£840)

Quarter Page

£55

£50 (£150)

£45 (£270)

£40 (£480)

Eighth Page

£40

£35 (£105)

£30 (£180)

£25 (£300)
ABOVE RATES ARE FOR PREPAID PER INSERT