Are you anxious, depressed, or struggling to function during the day?
Or, have you been through a traumatic experience that you cannot stop reliving…
There's no need for these uncomfortable feelings to continue day in and day out. You can turn your life around. It isn't difficult to do and it doesn't require you to bare your soul to a stranger.
It works by learning techniques to manage your responses towards negative thoughts and feelings. And, by doing so, it empowers you to take control of your life. I can show you the techniques, all you need is a commitment to practice 10 – 15 minutes per day.
Don't suffer any longer. Call me today, and let's get started together.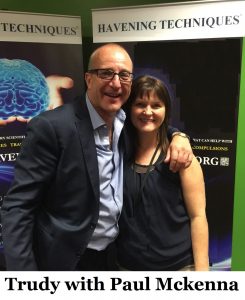 Trudy Keating
Certified in Mindfulness-Stress Reduction
Certified Teacher Trainer in Mindfulness
Diploma in Mindfulness-Based Cognitive Behavioural Therapy
Certified Havening Therapist
Licensed Practitioner in NLP (Neuro Linguistic Programming)
Primary School Teacher (25+ experience) Bachelor of Education
DBS checked and fully insured to work with children

"Before I attended therapy I was anxious and worried about the day(s), weeks and months ahead, but now I think for the moment and don't worry about situations which may not happen. Trudy has guided me with the mindfulness exercises and now I am able to deal with things more positively in my mind and go forward with more confidence. The exercises together with the Havening Therapy are not hard to do and I can fit these into my daily routine. My heartfelt thanks to Trudy for all her help and guidance"…Trev